Evan Atkinson
AFCA Member

Hi everyone. I'm taking stock of my collection before the new year and would like to find new homes for these three motors. If you're interested, please send me a PM.

1. Marelli, maroon, type unknown, circa unknown. This beautiful art-deco motor sports what I believe is its original maroon paint with gold pinstriping. Comes with ceiling canopy and blade irons, but no blades which were likely wood. Armature spins very easily. I have not gotten into the motor at all, but judging from how easily it spins, someone may have replaced the original bearings with newer bearings. Asking $1,200.






2. I'm told this is a GEC (General Electric Co., Ltd., the British arm of US GE), type unknown. EDIT: Thanks to Dan Nguyen, this is now identified as a GEC Freezor "Koolah" ceiling fan. Thanks Dan! Likely circa is 1905-1910. This motor is coated with some kind of black oxide to guard against rusting, but was probably painted black originally. No blades, irons or ceiling canopy. Blades and canopy would have been aluminum (see the ad below), but the blade irons would probably be iron. Old tight hairline crack running partially down the lower motor cover. I've wire-wheeled a small area on the inside of the cover and the crack is tight, and would only require partial brass brazing to be secure and once finished, wouldn't show. Both armature and coils have been re-wound. This fan uses an oil well within the blade hub and the lower shaft of the armature has a spiral groove machined in it which draws oil up the lower sleeve bearing into a shallow well within the lower cover. There's a rifle-drilled passage that allows the oil to return to the blade hub well. The top armature shaft is threaded for an oil well cup that is missing. While the armature has been re-wound as it was originally and all connections have been soldered, I would re-solder them again to be better than they are. I am sure the fan runs, though I have not tested it. Asking $1,500.





3. Its official name is The Dayton standard fan. Made starting in 1905, not certain when exactly production of this type ceased, but likely not past 1910. This information comes courtesy of American Electrician volumes from 1905. These volumes state this motor is new this year because it has a revised commutator design of the drum type (vs. radial commutator motors made 1904 and prior), with carbon brushes much more accessible from outside of the lower cover. The volumes mention that the Dayton standard fan of the same name previously made has now been discontinued. #3 is unofficially known to us collectors as the Dayton DC "Oakleaf" fan.

This motor came to me in pieces and some of the ornate parts are reproductions. For instance, the ornate sideband on this motor (of the two it has) that says PATENTED is a very nice reproduction. I'm not sure about the lower cover but it definitely looks to be original. The square brass brush-holders are reproductions and they aren't drilled, deburred or finished yet. The four-blade iron star hub was fractured along a couple of the arms and shortly after I bought the motor, Paul Graves did some beautiful brass brazing work on it. Once it is painted or plated, none of that will show. Included are a set of reproduction brass crescent moon blade irons to go with the motor and they also aren't completely de-burred, though they are good quality castings. Paul brazed the hub in a couple of places and turned the pegs of the irons so they are a very nice, snug fit, exactly as you'd want them to be. Probably a significantly tighter tolerance than they were when new.

This motor didn't come with a top cover that I can see – most of them didn't – no screw holes drilled in the top of the poles to hold a top cover in place. Can't tell if the motor has been re-wound, but I don't think so. Someone before me painted the motor a glossy black and looks as though they over-sprayed onto the armature too. It turns very easily on its central axle but could use new leather washers top and bottom, or a modern improvement of a small ball-bearing race between the commutator and the armature retaining collar at the end of the axle to lessen any resistance further. The original commutator looks to be in good shape, even though I can tell this fan saw some significant use (judging by how much the commutator has worn down). I didn't know it until recently, but the armature axle passage of all these Dayton DC's are scribed with spiral-groove oil channels to route oil up to the upper oil reservoir contained in the center of the cast three-arm structure that acts as a carriage for the Gramme ring. From the upper reservoir, there's an oil return passage drilled from the reservoir down to the shaft. Pretty good oiling system for an early DC motor.

The fan has no blades, unfortunately. It does have a nicely reproduced hanger pipe union. It needs some further machining to allow it to fit over the center axle of the fan on the top of the motor, but is a very nice copy.

Asking $1,800 for the fan + parts.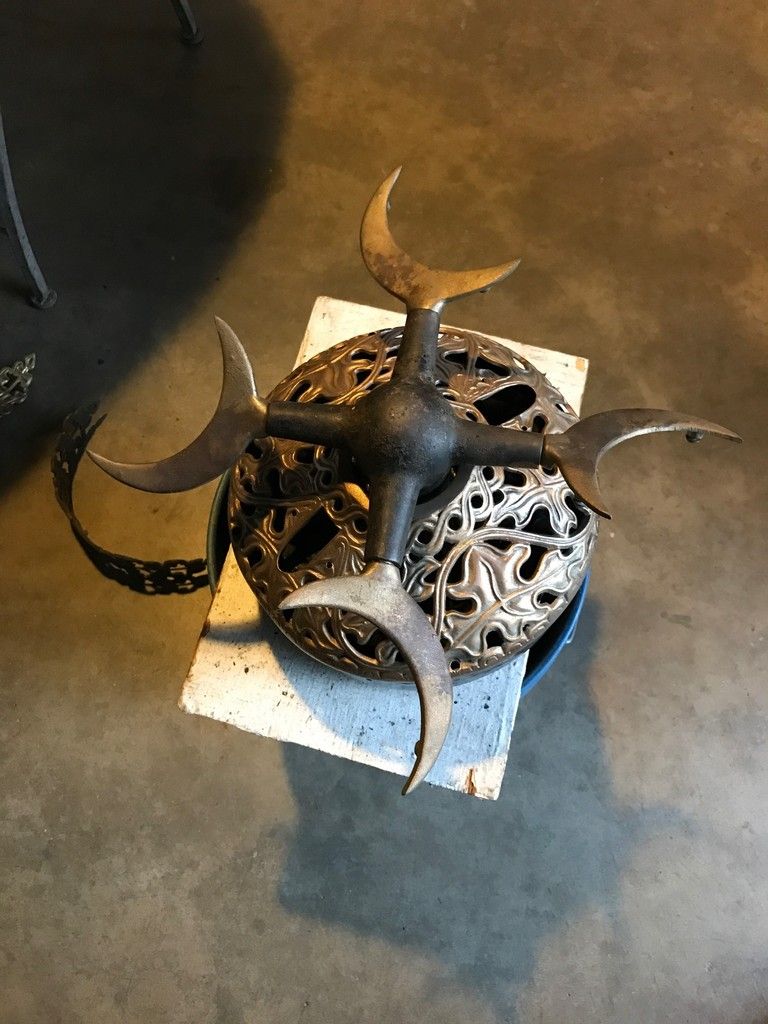 Last edited on Mon Nov 14th, 2016 10:40 pm by Evan Atkinson